Abyssal Crush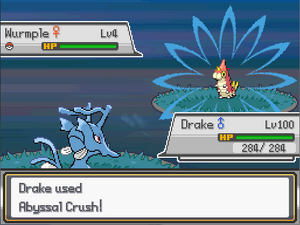 [[File:|300pxpx|center]]
Abyssal Crush is a Water-type one-hit knockout move.
If Abyssal Crush hits its target, the target faints immediately unless it possesses an item or ability that prevents a one-hit knockout from occurring. It should be noted that though it displays 30% Accuracy, this Accuracy will increase by 1% for every level difference between the user and the target. This attack will fail against a target whose level is higher than that of the user.
Description
Edit
The user destroys the opponent with the power of the Abyss.
By leveling up
Edit
Ad blocker interference detected!
Wikia is a free-to-use site that makes money from advertising. We have a modified experience for viewers using ad blockers

Wikia is not accessible if you've made further modifications. Remove the custom ad blocker rule(s) and the page will load as expected.