Angel Wings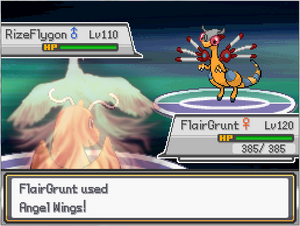 [[File:|300pxpx|center]]
Angel Wings is a non-damaging Normal-type move. It is available as TM108 in-game.
Angel Wings increases the user's Special Attack and Attack stats by 2 stages and increases their Speed by 1 stage. In exchange, the user gains weaknesses to all types of attacks including Normal and ???-type moves. The move will fail if used more than once.
Description
Edit
1)  The user grows a pair of Wings, increasing their stats, but all moves will be strong against them.
2)  The user grows a pair of wings, increasing their stats but making them weak to all moves.
Angel Wings is capable of being taught to all Pokémon except for the following:
Ad blocker interference detected!
Wikia is a free-to-use site that makes money from advertising. We have a modified experience for viewers using ad blockers

Wikia is not accessible if you've made further modifications. Remove the custom ad blocker rule(s) and the page will load as expected.