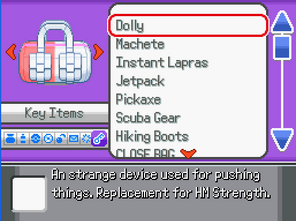 HM Items are rare items in the game which can be used to complete tasks which normally require a Pokémon with an
HM move
. They have an infinite number of uses.
HM Items

| Item | Replaces HM | Location | Icon |
| --- | --- | --- | --- |
| Dolly | Strength | Inside Wonder Cave in Superior Town behind a boulder on the far right side of the floor that is already lit. | |
| Machete | Cut | Near the player's Secret Base in Agassiz Town. Near the entrance, go to the right and continue along the ledge (for a long while) until reaching the end. There is a Pokéball with the Machete. Note: there is a rock blocking your path to the Machete until you defeat the Agassiz Gym. | |
| Instant Lapras | Surf | In Ladoga Town, in a house to the left of the shrine. | |
| Jet Pack | Waterfall | In Treader Town in the second external part of Mt. Press, you need Rock Climb (and Hero's Sigil) to reach it. | |
| Pickaxe | Rock Smash | Behind a rock that needs Rock Smash on the right side of the snow level of Mt. Press. | |
| Scuba Gear | Dive | In the maze section of Mt. Nova, right before the room with Heatran. | |
| Hiking Boots | Rock Climb | In Maggiore City, left of the Pokécenter, you need Rock Climb (and Hero's Sigil) to reach it by going around the right side of town. | |
| Rocket Boots | Fly | Near the entrance of Route 317, while headed towards Caspian City, up the stairs to the left deep into a stretch of grass. | |
| Time Caller | Tesseract | In the Museum in Onega Town, by using Tesseract where you first met Odin/Zeus (top-center) and then interacting with the display case. | |
| Stargate | Wormhole | In a Wormhole entrance in Turkana Town. | |
| Skeleton Key | Secret Power | In the player's Secret Base, upon upgrading to tier 2. | |
Ad blocker interference detected!
Wikia is a free-to-use site that makes money from advertising. We have a modified experience for viewers using ad blockers

Wikia is not accessible if you've made further modifications. Remove the custom ad blocker rule(s) and the page will load as expected.