Lunar Cannon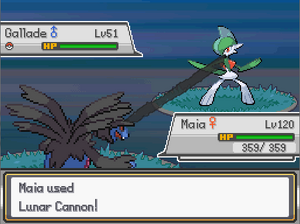 [[File:|300pxpx|center]]
Lunar Cannon is a damage-dealing Dark-type move. It is available as TM103 in-game.
Lunar Cannon forces the user to "charge" on the first turn and then deals damage on the following turn.
Description
Edit
1)  The user absorbs darkness on the first turn, then strikes with a powerful attack on the second.
2)  A two-turn attack.  The user gathers darkness, then blasts a bundled beam on the second turn.
Ad blocker interference detected!
Wikia is a free-to-use site that makes money from advertising. We have a modified experience for viewers using ad blockers

Wikia is not accessible if you've made further modifications. Remove the custom ad blocker rule(s) and the page will load as expected.