Maggiore Cave
[[Image:|300px]]

Information
Special features

None

Items

None

Connected areas
Location


Maggiore Cave is an extremely brief location which connects Route 321 with Maggiore City.
Walkthrough
Edit
The trainer in this area gives increased experience whenever their Pokémon are defeated in battle.
The only real event that takes place here is a Team Asgard/Olympus Commander confrontation with the Elite Four Fanboys followed by a battle with that commander. Once that battle has been completed the Fanboys disappear again and the player is free to make their way to Maggiore City.
Team Asgard/Olympus Battle
Edit
Team Asgard Commander Loki (Zeta)Edit
Pokémon
Level
Moves
90
Extrasensory
Night Daze
Flamethrower
Scary Face
92
Draco Meteor
Superpower
Fire Blast
Dark Pulse
91
Knock Off
Thunder Wave
Confuse Ray
Shadow Claw
92
Sucker Punch
Dark Pulse
Nasty Plot
Memento
92
Perish Song
Sucker Punch
Me First
Razor Wind
92
Confuse Ray
Moonlight
Night Shade
Will-O-Wisp
Reward: 7360
Team Olympus Commander Artemis (Omicron)Edit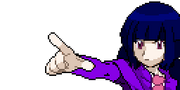 Pokémon
Level
Moves
90
Jump Kick
Imprison
Captivate
Me First
91
False Swipe
Protect
Close Combat
Stored Power
91
Stone Edge
Future Sight
Explosion
Magic Room
91
Morning Sun
Psychic
Last Resort
Power Swap
92
Power Swap
Guard Swap
Ominous Wind
Psychic
92
Calm Mind
Psychic
Future Sight
Trick
Reward: 7360
Ad blocker interference detected!
Wikia is a free-to-use site that makes money from advertising. We have a modified experience for viewers using ad blockers

Wikia is not accessible if you've made further modifications. Remove the custom ad blocker rule(s) and the page will load as expected.