Home
Talk

0
94pages on
this wiki
Welcome to the Pokemon Zeta Omicron 
Edit
Pokemon Zeta and Omicron are two Pokemon Fan-games created by reddit user "thesuzerain" using RPG Maker XP and Pokemon Essentials (by Maruno) and sprited by reddit user "Sir_Willis_CMS" using Photofuck.
It is unique in the aspect as being one of the very few Pokemon fan-games to have two games, following the Pokemon tradition, as well as having all 649 Pokemon.
It is currently in the Beta testing stage, with v1.0.0 of the Beta being released to the public on the 13th of September, 2013, the current version is v1.0.12. More information about the beta can be found here.
Check out more information at: /r/PokemonZetaOmicron or on the official website here!

Team Asgard/Olympus, led by Odin/Zeus, are already on the prowl before you first encounter them. They've been interrogating the world's leading scientists and professors trying to figure out a secret lost to the ages. The ancient legends say Arceus created the world in the depths of the void, before matter itself existed. They say he created Time, Space and Antimatter, and created life to inhabit them all. They say he disappeared and fell into a deep sleep for millions of years. If Arceus created the world, who maintains it? Well, unfortunately for us, Team Asgard/Olympus found out, and they will do anything to control it. They began their takeover of the Vesryn Region, methodically taking over every town, starting with the fairly small village of Nyasa. Your town. Now it's personal. Your mother is one of the greatest trainers in the region. She single-handedly tamed rare Pokemon and defeated the Elite Four. Under her guidance, you escape Nyasa Town into a small bunker-cave that connects to another town. She explains what's going on, and informs you that there is an emergency stash of Pokemon within the cave. The Professor shows up, and tells her holy-crap-Team-Asgard/Olympus's-here-we-need-your-help, and being the good samitarian she is, she leaves, leaving you to find the emergency Pokemon and make your way to Zarivar Town, where the Professor awaits.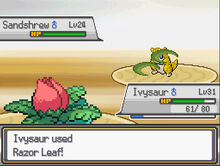 Pokémon Zeta and Omicron are role-playing video games with adventure elements. The basic mechanics of the games are largely the same as their predecessors'. As with all Pokémon games for hand-held consoles, gameplay is viewed from a third-person overhead perspective, and consists of three basic screens: a field map, in which the player navigates the main character; a battle screen; and the menu, in which the player configures his party, items, or gameplay settings. The player begins the game with one Pokémon and can capture more using Poké Balls. The player can also use the Pokémon to battle others. When the player encounters a wild Pokémon or is challenged by a trainer to a battle, the screen switches to a turn-based battle screen where the Pokémon fight. During battle, the player may fight, use an item, switch the active Pokémon, or flee (the last is not an option in battles against trainers). Pokémon have hit points (HP), which is displayed during combat; when a Pokémon's HP is reduced to zero, it faints and cannot battle unless taken to a Pokémon Center or healed or revived with a Pokémon skill or item. If the player's Pokémon defeats the opposing Pokémon (causes it to faint), it receives experience points. After accumulating enough experience points, it will level up; most Pokémon evolve into a new species of Pokémon when they reach a certain level, or when certain conditions are met (commonly, how much a Pokémon statistically 'likes' its trainer).
Pokémon Zeta/Omicron contain several features that do not exist in other pokémon games. These new features include things like The Custom Move Maker. He allows you to choose the type and name of an attack, which can be taught to any Pokémon. Another feature added is the EV/IV viewing system that allows the player to see his/her EV/IV anytime they wish. The system effectively replaces the IV Psychic. Clubs have also been added. These clubs are a mini-series of quests that a player can complete to receive(May require catching.) a legendary pokémon. The clubs added are: Police, Ranger, and a club that has not been revealed. The game also contains two special types of pokémon(not including shinies): Shadow and Delta species. The game also features a Pokédex of all 649 Pokémon.
Online Multiplayer
Edit
The game also features an online connectivity function that allows players to battle and trade with one another. 
Latest activity
Edit