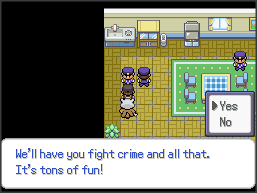 One of the features in Pokemon Zeta/ Omicron is the inclusion of joinable clubs. Each club has its own line of missions, culminating in a final encounter with a legendary Pokemon!
The Police Club is located in Fianga City, directly south of the Pokehadron Collider.
Mission 1
Edit
(Level range 25-27)
The first mission has you investigate a deal going down between Team Olympus/Asgard and Team Rocket. The first battle is a double battle, so be prepared. Battle your way through generic grunts until you come across two main grunts from each team finalizing a deal.  An officer will attempt to arrest them after some dialogue but they will flee. You're given a Max Revive for your work.
Team Rocket Grunt & Team Asgard Grunt Battle
Edit
Trainer
Pokémon
Level
Team Rocket Grunt
Arbok
25
Team Olympus Grunt
Golduck
25
Team Rocket Grunt
Golbat
26
Team Olympus Grunt
Musharna
26
Team Rocket Grunt
Raticate
26
Team Olympus Grunt
Mightyena
26
Reward: $2132
Mission 2
Edit
(Level range 28-33)
Mission 2 has you rescue Professor Oak from Team Rocket attempting to steal a device from him. You arrive in Pallet Town which is filled with Team Rocket grunts, so you will have to battle your way through. After reaching him in his lab, you must battle Oak!
Rocket Grunts
Edit
Professor Oak
Edit
Items: Full Restores
Pokémon
Level
Moves
Tangrowth
32
Growth
Knock Off
Mega Drain
Stun Spore
Lickilicky
32
Wrap
Slam
Stomp
Disable
Blastoise
33
Protect
Water Pulse
Rapid Spin
Aqua Tail
Charizard
33
Flame Burst
Fire Fang
Dragon Rage
Scary Face
Yanmega
32
Detect
Uproar
Supersonic
Pursuit
Venusaur
33
Double-Edge
Sweet Scent
Growth
Petal Dance
Reward: $3300 , 10 Ultra Balls
Mission 3
Edit
(Level range 34-37)
You first must have the Necro Badge to attempt this mission. This time it's for real! Team Rocket has tracked down Mew to its natural habitat, Faraway Island. You must stop Team Rocket by battling the Grunts up to Giovanni himself! Defeat him to stop this madness!
Rocket Grunts
Edit
Rocket Boss Giovanni
Edit
Hint: A strong water team is advised. Also a good ground team works too.
Items: Full Restore
Pokémon
Level
Moves
Rhyperior
36
Chip Away
Fury Attack
Rock Blast
Scary Face
Nidoking
37
Double Kick
Chip Away
Poison Sting
Thrash
Nidoqueen
37
Double Kick
Chip Away
Poison Sting
Body Slam
Golem
37
Rock Blast
Smack Down
Selfdestruct
Bulldoze
Reward: $3700
Mission 4
Edit
(Level range 39-45)
The player must first obtain the Swarm Badge to obtain this mission. It seems Team Rocket left the island after their defeat with a tiny piece of Mew's DNA in their possession, required to clone this legendary and mythical Pokemon. This mission takes you to their base to stop Team Rocket from attempting to clone Mew!
The Team Rocket Base is filled with grunts, which you unsurprisingly have to fight. When you get to Giovanni, he uses a level 45 armored Mewtwo like the first movie. It is Psychic/Dark type and has the same stats as a normal Mewtwo, but it has the Hubris ability (think Moxie but for Sp. Atk).
Rocket Grunts
Edit
Rocket Boss Giovanni
Edit
Items: Full Restore x 2
Mission 5
Edit
(Level range 56-61)
You need to have earned the Kinectic Badge before you can attempt this mission.
You are invited by Mewtwo to an island where he captures the other trainers, and you have to destroy his clone machine. This is similar to the plot of the first Pokémon movie. Then you must proceed upward through a maze guarded by trainers named after the Seven Deadly Sins.
You can get through easiest by battling only four of the trainers, just go straight up. They're tough, about the same level as Miranda. If you've beaten her, you should have no trouble.
Reward: Strange Machine
Trainer
Pokémon
Level
Cool Trainer Envy
Spinda
58
Lilligant
59
Reward: $3540
Trainer
Pokémon
Level
Cool Trainer Greed
Sableye
61
Reward: $3660
Trainer
Pokémon
Level
Cool Trainer Pride
Milotic
61
Reward: $3660
Mission 6
Edit
(Level range 72-73)
You are invited to battle by Mewtwo once again, this time he faces you with a team of clone Pokémon. You are required to have the Inferno badge to attempt this mission.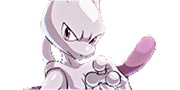 Pokémon
Level
Moves
Ninetales
72
Ember
Confuse Ray
Quick Attack
Safeguard
Primeape
72
Thrash
Punishment
Close Combat
Final Gambit
Charizard
73
Heat Wave
Fire Spin
Inferno
Flamethrower
Blastoise
73
Hydro Pump
Iron Defense
Skull Bash
Rain Dance
Pikachu
72
Light Screen
Agility
Discharge
Thunder
Venusaur
73
Petal Dance
Worry Seed
SolarBeam
Synthesis
Reward: $7300
Mission 7
Edit
You appear on an island where Mewtwo is waiting for you, though you need to have beaten the Elite Four first.
Hint: This is your opportunity to catch it, so don't waste it!
Pokémon
Level
Moves
Mewtwo
50
Psycho Cut
Miracle Eye
Amnesia
Mist
Reward: $
Aftermath
Edit
Once you have defeated Mewtwo, if you have a License Template, the police captain will offer to make it into a VIP License, allowing the player access to the Psychic Temple, and Mew.
Ad blocker interference detected!
Wikia is a free-to-use site that makes money from advertising. We have a modified experience for viewers using ad blockers

Wikia is not accessible if you've made further modifications. Remove the custom ad blocker rule(s) and the page will load as expected.