Zombie Strike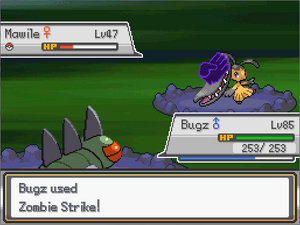 [[File:|300pxpx|center]]
Zombie Strike is a damage-dealing Ghost-type move. It is available as TM96 in-game.
Zombie Strike inflicts damage and has no secondary effect.
Description
Edit
The user thrusts with a ghostly arm, striking the opponent with a physical presense [sic].
Ad blocker interference detected!
Wikia is a free-to-use site that makes money from advertising. We have a modified experience for viewers using ad blockers

Wikia is not accessible if you've made further modifications. Remove the custom ad blocker rule(s) and the page will load as expected.